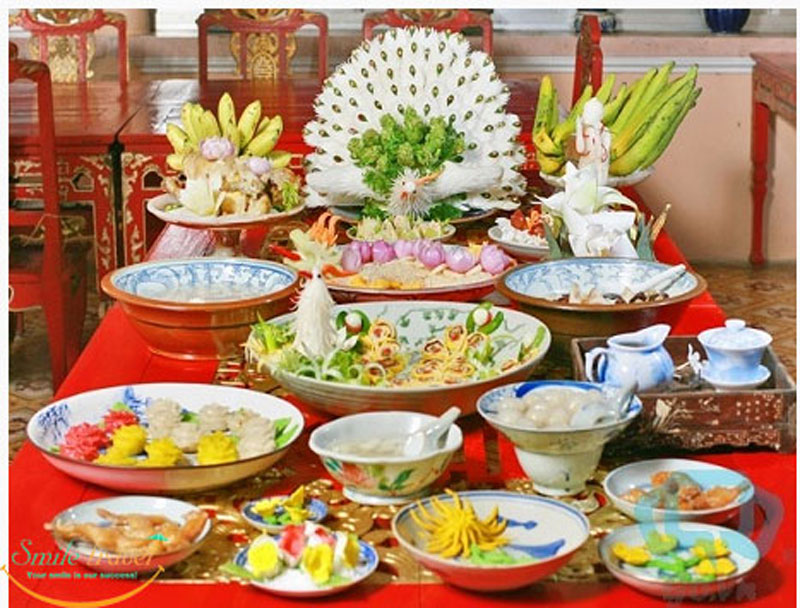 Top 07 The Best Things to Do in Hue- Imperial Capital
Top 07 The Best Things to Do in Hue- Imperial Capital in Vietnam
Hue is one of the most charming towns in Vietnam and is located on the banks of the beautifully named Perfume River. This part of Vietnam has a long and illustrious history as it used to be one of the main royal capitals of the country. As such, history lovers will find a huge amount to enjoy here, from the rambling ancient architecture to the engaging museums that will fill you in on all the details. Many people come here, in particular, to check out the ancient tombs of former emperors that are dotted all over the city and provide you with a fascinating insight into Hue in the days of old.
1, Shop at Dong Ba Market
Dong Ba Market is one of the premium shopping spots in Hue if you are looking for a dose of authenticity in the city.
Here you will find a flea market as well as a number of toothsome local food stalls.
This spot was made famous when celebrity chef Anthony Bourdain came here and filmed an episode of his show 'No Reservations'. Bourdain sampled the Bun Bo here but you will find a huge number of other dishes including noodle soups and spring rolls.
2, Enjoy dinner at Ancient Hue Royal Cuisine and Gallery
One of the best-known restaurants in Hue is Ancient Hue Royal Cuisine and Gallery which serves delicious food and is located inside an ancient housing complex.
The food is a mix of local and international fare and although it is a little pricier than other restaurants in the city it is more than worth it if you are in the mood for some upscale dining.
They also serve cold beer so this is a great place to unwind after a day of sightseeing.
3, Explore Bach Ma National Park
Bach Ma National Park is located at 1,450 meters above sea level and encompasses some of the prettiest scenery in all of Hue.
On a visit here you will find towering waterfalls as well as pretty hiking trails and there are several crumbling French villas to observe along the way.
The park is part of the wider Annamite Range and this part of Vietnam is known for its lush landscapes.
You can also combine a trip here with a stop off at the Cau Hai Village.
There is also the option to stay overnight here at the campground of you can just spend the day swimming in limpid pools and taking in the flora and fauna.
4, Cycle around the city
Hue is often said to be one of the nicest cities in Vietnam to cycling around.
You will find far less traffic here than in other parts of the country and you can also cycle along the lush banks of the Huong River and visit all the key attractions for which Hue is famous.
You can either just rent a bike and go it alone, or you can also join a dedicated cycling tour with a guide that will take you around Hue or out into the surrounding countryside.
5, Thien Mu Pagoda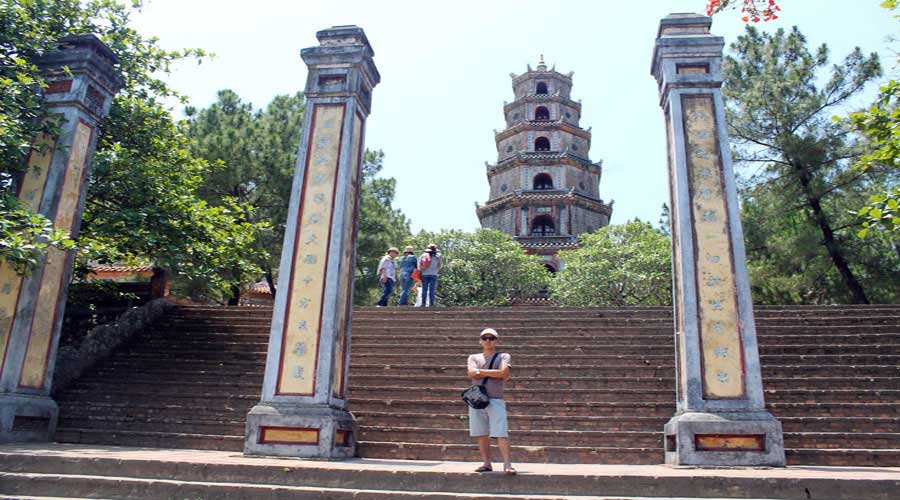 Thien Mu Pagoda
Another famous pagoda in Hue is the Thien Mu Pagoda.
This temple sits overlooking the Perfume River and is known for its gold and silver images of the Buddha.
The pagoda is so well known in Vietnam that it is also the official symbol of Hue and you can take in beautiful views over the city from this spot.
Other highlights to look out for inside include a huge bell that was cast in 1710 as well as a stone turtle that dates from the 17th century and holds a marble stele.
6, Imperial Citadel
The Imperial Citadel in Hue would have been the previous center of the government and is made up of a vast complex.
When you walk around you can admire the moats, carved gates and royal pavilions, and there is also a clutch of engaging museums on the grounds.
If you like Vietnamese costumes, textiles and art then make sure not to skip the main galleries here.
7, Visit the Tombs of the Ancient Emperors
One of the big draws in Hue is the tombs of the Ancient Emperors and this is the main reason why so many visitors travel here every year.
Anyone with an interest in ancient architecture and history needs to visit the tombs which were built in honor of famous emperors of Hue.
The tombs mostly date from the 19th and 20th centuries and are carved to tell the stories of Buddhist legends.
Some of the main tombs not to miss include the Tomb of Tu Duc, the Tomb of Minh Mang and the Tomb of Khai Dinh.
If you are not sure which tombs to visit on a trip here then you can take a dedicated guided tour.
http://www.smiletravel.net/tour/hue-city-day-tour-da-nang
—->>>
---
– What is on in Hue?
+Top Things to do in Hue (Attractions, Points of Interest and Activities)
+UNESCO World Cultural Heritage: Complex Hue Monuments. …
+Thien Mu Pagoda Visit and Perfume River Boat Ride. …
+Trang Tien Bridge. …
+Visit the tombs of Nguyen Emperors. …
+Enjoy Hue Cuisine in Dong Ba Market. …
+Experience Hue Royal Banquet Dinner.
– What is hue known for?
Hue is well known for its historic monuments, which have earned it a place in UNESCO's World Heritage Sites. The seat of the Nguyen emperors was the Imperial City, which occupies a large, walled area on the north side of the Perfume River.
– Is Hue worth visiting?
Worth a day trip but not any longer
It was a nice experience and I would recommend that you visit Hue if you're staying nearby. If you're thinking of taking the train from Danang to Hue, only do so if you have time to spare (3 hours) and if you can cope with trains that are not the cleanest.
– Is Hue Vietnam safe?
Hue is a very safe city to travel in. The roads are safer than many other parts of the country – though they're getting busier fast – and street crime is rare. Cyclo drivers are persistent to the point of annoyance.
– How is hue pronounced?
It is a single syllable name – "H-Way"
– What is hue in color?
hue. Green, orange, yellow, and blue — each of these is a hue, a color or a shade that's true. A rainbow shows the melting of one hue into another, from red to violet, and all shades in between. The noun hue means both a color and a shade of a color.
– Which is better Hue or Hoi An?
Where Hue is more hectic and historic, Hoi An has an old town that is just perfectly chilled out, with no traffic allowed in some areas. Hoi An during the day is very relaxed and there's not much going on, but Hoi An has a really good cafe scene, way better than Hue.
– What to do in Hue at night?
+Watch the sunset in front of the Citadel.
+Eat dinner at the Dong Ba market.
+Get on a dragon boat and listen to Hue folk songs while cruising the Perfume River.
+Watch the colorful Truong Tien bridge while drinking coffee.
+Walk in the night market.
+Get a beer in the walking street.
– How do I get from DaNang to Hue?
Travel by train from Da Nang to Hue takes about 2,5-3 hours. Travel by bus/van/minibus from Da Nang to Hue takes about 3-4 hours. Travel by taxi/private car from Da Nang to Hue takes about 1,5-3 hours. Travel by plane of Hai Au Aviation from Da Nang to Hue takes about 40 minutes.
– How far is Danang from Hue?
110 km
Hue to Danang distance is 110 km and it takes 3 hours to drive by car.
– How do you travel to Hue?
Normally you can get a train from Da Nang city to Hue or Tourist Bus from Hoian or ride a motorbike by yourself to Hue but you can also travel to Hue city in a private car. You can contact a local company to get in there. Distance 145km -4 hours of driving.
Smile Travel is one of the fast growing Tour Companies in Vietnam. We are as Inbound and Outbound Tour Operator Licence No 01-1051/TCDL-GPLHQT. We specialize in tailor-making and customizing individual, Couple, family and group tours throughout Indochina destinations.
Our Tour:
Halong Cruises Tours, Vietnam Classic Tours, Hanoi Daily Tours, Danang Daily Tours, Ho Chi Minh Daily Tours, Biking and Motorbike Tours,Vietnam Beach/ Relaxing Tours,Vietnam Muslim tour in Hanoi,Vietnam Muslim tour in Danang ,Vietnam Muslim tour in Ho Chi Minh,Vietnam Eco Tours,Vietnam- Laos Tours,Vietnam- Cambodia Tours,Vietnam- Myanmar Tours,
Our Travel Services:
Tour Guide, Car/Motorbike For Rent, Visa to Vietnam, Bus Tickets, Bus Tickets, Flight Tickets, Train Tickets

--------------------------------------------------
Head Office: